Genesis Cleavage ?
BristolDuncan
Posts: 0
I have Genesis and Victoria 5 but still can't find any of the breast adjustments available with non-Genesis Victoria 4. I'm specifically looking for for the Cleavage setting to reduce the gap between them. Other options I can't locate include Breasts Natural, BreastsSize, BreastsHeavy, LoveHandles, HipBoneCrest etc.
I am attaching an image to clarify what I'm talking about, my client is looking for something more like what's on the right instead of what Genesis can do as shown on the left.
Can you provide a link or tell me where I can find a morph or something for Genesis that provides this ability?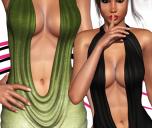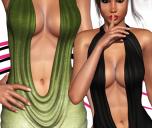 Post edited by BristolDuncan on