DAZ3D Studio 64bit and 32bit issues/errors
lyonitiss
Posts: 0
Hi, Im new to the 3d world and found daz3d studio which seems promising for being free and its capabilities. I have several issues.
I have installed the 32bit and 64bit version of daz3d studio to my laptop which has the following specs:
-Windows 7 Ultimate 64-bit
-4GB RAM
-AMD Turion 2.2Ghz
-Upong running "About your video card" inside of DAZ3D 64-bit I get this:
Current OpenGL Version:
2.0.6747 Release
OpenGL Provider:
ATI Technologies Inc.
Hardware:
ATI Radeon Xpress 1250
Features:
MultiTexturing
Supported
Shadow Map
Supported
Hardware Antialiasing
Supported
OpenGL Shading Language
Supported
Pixel Buffer
Supported
Pixel Buffer Size
Not Enabled
Maximum Number of Lights
8
Number of Texture Units
8
Maximum Texture Size
2048 x 2048
64-Bit Studio issues:
When I open it, all I see is a black workspace background and nothing else. I tried changing the workspace layout to the others available but nothing, it keeps showing a black background(see attach image). When I choose to render(CTRL+R), it seems to render the model correctly and viewable(see attach image).
My questions: Is my machine now powerful enough for DAZ3d? Is my video hardware not supported for 3d modeling at all?
32-Bit Studio issues:
When I try to open it seems like it wants to load but then it gives me "DAZStudio.exe caused ACCESS_VIOLATION at 0023:0AB10E00" error(see attach image). Program doesnt open at all. I have tried running as administrator and changing the compatibility mode to Windows XP but with not success. Is it because my OS is 64-bit and it doesnt support the 32-bit version of DAZ?
Sorry for the long post but I hope someone can share any helpful input to my situation. Thanks in advance for any help!!


3daz3d_studio_32bit_error.png


2daz3d_studio_64bit_rendered.png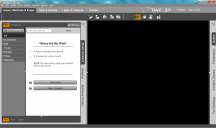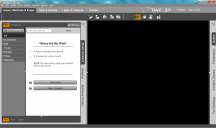 1daz3d_studio_64bit_blackworkspace.png
Post edited by lyonitiss on