Dalrock Theater
texjones
Posts: 0
THIS is one of those times that I LOVE playing with Daz. The theater building itself was created in Blender, brought into Daz and surrounded by Room Creator. The floor tiles in RC were given a concrete Diffuse map, and it worked itself out great. The marquees were made in Illustrator, the neon glow and glowing white background panels I was able to add in Photoshop. Now, because this is a key scene in the story, I had to make it at night. So in order to 'light up' the marquees I added the point linear lights right infront of the panels so they 'lit up'. The two movie posters, are on a flat plane inside a picture frame from the McLean Hotel. And of course the track lights from Home One, the dome lights also from the Hotel. The ticket booth on the left, has a plane with the opacity turned way down to make it look like glass. The doors are also from Room Creator, I just made the frames with metal diffuse and kept the recess to complete the entry.
I modeled this after a theater I remember going to when I was a kid in downtown Garland, Texas. It was one of the early single screen theaters, that was circa 1968-1973.
GAWD, I am so glad there is such a thing as DAZ!!!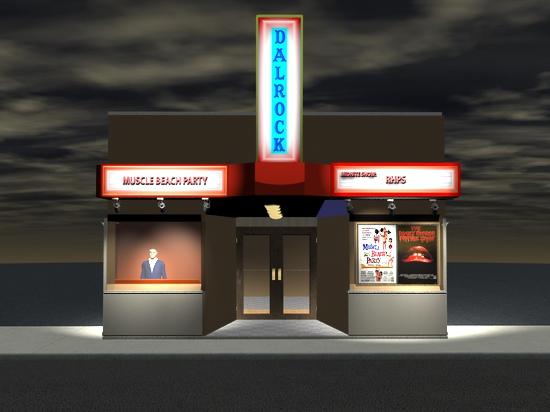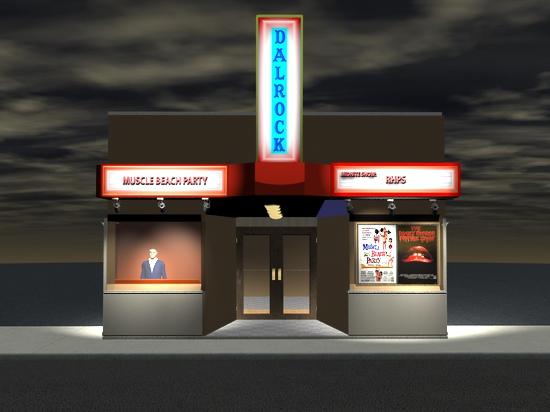 Dalrock_Theater_at_night.jpg
Post edited by texjones on