new discovery in Daz
texjones
Posts: 0
I've been so busy concentrating on the animation and set ups for future plans that I haven't really seen what I can do with Daz. And so I dicovered just now, sorry it took a while but I been kinda busy, how much easier it is to just create a new primitive plane and put a picture in to Diffuse. That opens up a whole thing, as I create in Illustrator. And to make matters worse, create a primitive, put a wood diffuse on it, send that to Hexagon and THERE turn it into a table or so...
But the flat plane in Daz sure opens up a new can of ideas.
This is what I've been busy with lately. Creating a little village of sorts, to map out the main scenes that will be used in the episodes of my upcoming series "Muscle Shores". Trying to get everything in place and working out the details before I really get started. The backdrop is Bryce. On the left is a double layered Room Creator mixed with McLean Hotel, The Gym is surrounded by Room Creator, that also contains the Locker Room, I flipped it around and took out walls so it becomes one building, and made the Room long in the front as a lounge of sorts. The shoreline is a pic of the Gulf Of Mexico off Galveston taken off Google Earth. The McLean Diner on the right, I added the roof from the Suburban House, everything else is blanked out, cause I liked the roof over the Diner, gives it a nicer look. The orangey building behind the gym, I created in Blender, modeled after the shopping area where I work. Most of the buildings have that appearance but one in particular I really liked and modeled the front of another building as the main entry way, sorta the best of two building I like blended together. On the gym wall the mural is Daz (the silhouette figures) rendered in png, the finished Mural is Illustrator, taken back to Daz to go on the wall on a plane from Blender (before I discovered about Daz's primitives).
And the still for the opening title, rendered in Daz but enhanced in Photoshop...The title in Photoshop
BUT I really really really wish Daz would/could work with Blender better. If I create the wooden box in Daz and send it to Blender would be better, since I can work it better than Hexagon.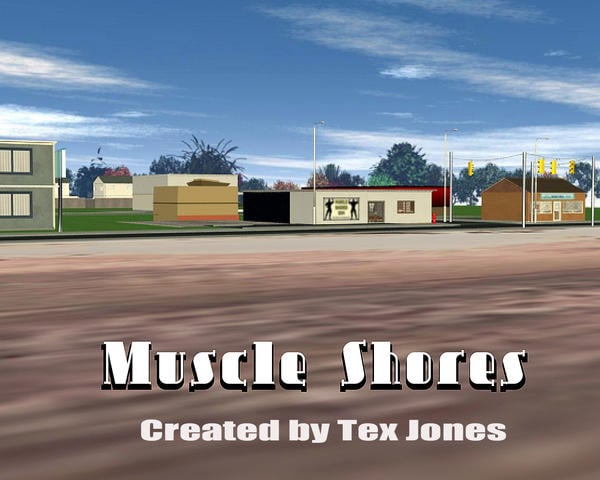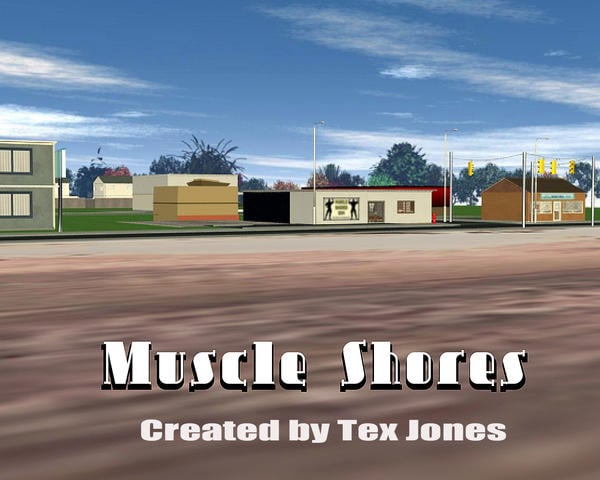 Muscle_Shores_Title_Pic_edited-1.jpg
Post edited by texjones on